Create a stunning intro for your presentations.
Showmaster™ creates an exciting frame around your presentation during the waiting time and breaks with headlines, countdown, music and more.
Seamlessly integrated into Microsoft PowerPoint, Google Slides, Microsoft Teams, Webex and Zoom.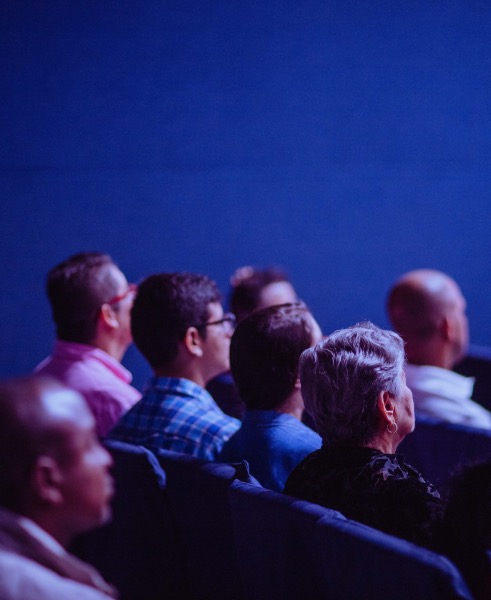 Showmaster is free to use.
Showmaster™ is free to use with a subtle watermark, showing 'Made with Showmaster FREE'. Get Showmaster PRO to remove the watermark for professional use and unlock all features.
Showmaster is typically used in trainings, webinars, keynotes, conferences, customer presentations, large internal company meetings, townhall meetings, church services and more.
Features
Showmaster includes a great set of features. Most of them are available in the free version as well.
Countdown
Create a beautiful countdown timer until the defined start time of your presentation. Showmaster will automatically bridge the time until your presentation starts or continues.
Audience Feedback
Ask your audience to enter any input using their smart phones, such as expectations, pre-knowledge or feedback. You can even display their input live during the show.
Animated Headlines
Announce your upcoming content with meaningful headlines to set the scene for your talk.
Logo Animations
Select your SVG company logo and Showmaster will incorporate it into the animations in a stunning way.
Themes
New themes will be continuously added to Showmaster. If you would like to integrate your corporate design, you may request a custom theme.
Music
Showmaster comes with a collection of selected music themes which are great to be used before and after presentations.
PowerPoint Integration
Showmaster integrates seamlessly into Microsoft PowerPoint. When you switch to presentation mode, Showmaster automatically steps in.
Google Slides Integration
Showmaster works perfectly with Google Slides. With our Google Chrome Extension, you can even present Showmaster without ever leaving your slide deck.
Customer Reviews
What Our Customers Say
"I am loving this tool and the attention to detail (e.g., separately animating the layers of my SVG logo – well done!! 😊)"
"I am a huge Showmaster advocate, not only at Toyota, but I've also presented about it in Microsoft Champions calls, and with other customers and service providers. Congratulations on developing a terrific product!"
"So much better than just a pure countdown! The animations are looking really nice, I use the tool regularly! I would recommend installing the additional Chrome App, otherwise the animation does not start automatically in presentation mode."
"Excellent add-in for lecturers! This add-in is great for spicing up online or offline courses. Besides the opening, I like to use the add-in for coffee breaks etc., so that the participants know exactly when we'll continue."
"By far the fanciest plugin I have found on AppSource so far!"
"A software to make your presentations more eye-catching. It offers variety of features to customize your presentations' appearance by adding music, countdowns animations etc. to your presentations to catch the audience's attention by making them more interactive."
"Showmaster allows us to bridge the waiting time between our event PPT presentations in a much more pleasant and vivid way."